Every Client is Unique; so are our Solutions
If you want to be an excellent recruiter, you have to be able to effectively source passive talent. Passive candidates are 5 times as likely to be hired vs. inbound applicants. Simply stated, on average, your recruiting team has to review 250 inbound candidates to make 1 hire. This helps explain why the best recruiters find themselves spending between half to a third of their work week sourcing. Combine that with a full slate of meetings and interviews, it's no wonder your recruiting team is burned out. This is the problem that SourceMultiplier solves. We send only qualified and interested candidates directly to your teams calendars, reducing your recruiting effort by 50%. Our clients reduce their time and effort to hire while allowing their recruiters to focus on the highest value activities.
We love sourcing, we find joy and fulfillment in the hunt for great talent and we absolutely love providing the missing piece to the talent puzzle for our partners. Over the last 2 years, and with over 40 years of combined learning, we have built a world-class sourcing organization. We have the ability and capacity to solve your sourcing problems at scale.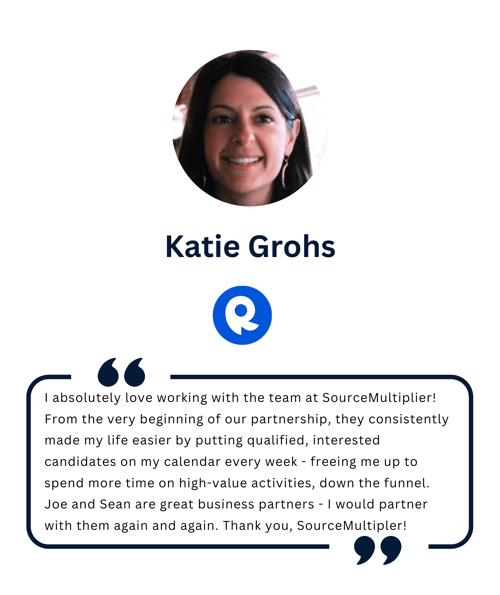 Our direct placement service is designed to help businesses fill critical roles with highly skilled and experienced talent, fast. We work with businesses to understand their unique needs and then source, screen, and interview potential candidates.
We provide businesses with a shortlist of highly qualified candidates that match their requirements. We also provide support during the hiring process and ensure that you find the right candidate for the job.
This service is perfect for companies that need a fast and reliable way to fill their most pressing openings.
Our RPO service is designed to provide end-to-end recruiting solutions for businesses. We work with our partners to understand their unique hiring challenges and develop a solution that can then manage the entire recruiting process from start to finish.
We handle everything from job postings, sourcing, screening, and interviewing to hiring, onboarding, and even ongoing support. We provide businesses with a dedicated team of recruiting experts who will ensure that they find the right talent for their growing organization.
This service is perfect for businesses that need a comprehensive and effective recruiting solution, fast.
No matter what your recruiting needs are we have a service that can help.
Contact us today to learn more about how we can help your business hire the best talent, fast!