Built Out Enterprise AE Team
SOURCED TOP TALENT IN 6 KEY MARKETS
CLIENT
Founded in 2014, Rapid delivers the next-generation API platform, built for the modern developer. As the creator of the world's largest API hub, where more than 4 million developers discover, evaluate and integrate more than 40,000 APIs from leading companies like Twilio, Microsoft and Google and more.
Decreased time to first interview by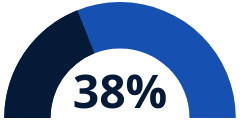 RESULTS
Leveraging our proven calibration methods to ensure candidate fit, outreaching only passive candidates to ensure we did not overlap with internal efforts, and deploying our proprietary communication approach we helped them fill all 6 roles in 5 months. Once calibrated we supplied the recruiting team with at least 3 qualified candidates every week and this consistent candidate flow along with a strong partnership with their talented Internal recruiting team, helped exceed their internal hiring goals in record time.
3500+ CALIBRATED CANDIDATES OUTREACHED
3500+ CALIBRATED CANDIDATES OUTREACHED
137 RECRUITER INTERVIEWS CONDUCTED
137 RECRUITER INTERVIEWS CONDUCTED
Our sourcing as a service model is designed to help existing recruiting functions supercharge the top of their funnel. We use our extensive networks and proven search strategies to source highly qualified candidates that match the unique requirements of your open positions.
Our team of experts will identify, outreach, and engage potential candidates, and provide you with warm introductions to highly qualified candidates for your open position.
This service is perfect for companies that are hiring for the same skill set over and over again or simply require an extra set of hands to act as a force multiplier to your existing recruiting efforts.
Our direct placement service is designed to help businesses fill critical roles with highly skilled and experienced talent, fast. We work with businesses to understand their unique needs and then source, screen, and interview potential candidates.
We provide businesses with a shortlist of highly qualified candidates that match their requirements. We also provide support during the hiring process and ensure that you find the right candidate for the job.
This service is perfect for companies that need a fast and reliable way to fill their most pressing openings.
Our RPO service is designed to provide end-to-end recruiting solutions for businesses. We work with our partners to understand their unique hiring challenges and develop a solution that can then manage the entire recruiting process from start to finish.
We handle everything from job postings, sourcing, screening, and interviewing to hiring, onboarding, and even ongoing support. We provide businesses with a dedicated team of recruiting experts who will ensure that they find the right talent for their growing organization.
This service is perfect for businesses that need a comprehensive and effective recruiting solution, fast.