Every Client is Unique; so are our Solutions
The success of any business lies in hiring the right people at the right time. However, now more than ever, identifying and engaging the right people to add to your team can be a daunting task. As a leader, you should be dedicating at least 50% of your time to hiring, but with urgent matters constantly arising, it feels impossible to devote that much time to finding the right candidates.
This is exactly where our direct placement services can help. At SourceMultiplier, we understand the importance of every hire and have over 50 years of experience in building top-notch teams for high-growth organizations. We take the time to carefully screen and select only the best candidates for your initial phone screen, by working closely with you to understand your business's specific needs.
Our team operates like a surgeon, unlike other agencies that use a "spray and pray" approach to hiring. With us, you can rest assured that you will save time and money while having a dedicated and reliable partner committed to your success. We offer competitive pricing and customizable packages for your hiring managers and finance team to make the decision-making process easy.
Finding the right candidates for your next key hire doesn't have to be the most time-consuming activity of your week. With Source Multiplier, you can focus on running your business while we handle the heavy lifting of the recruitment process. We have a proven track record of success and are committed to building long-term partnerships with our clients. Let us help you take your business to the next level with our world-class direct placement recruiting service.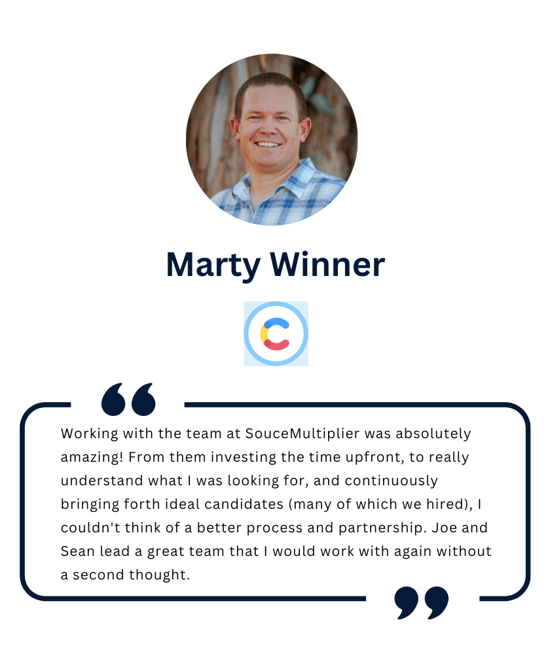 Our sourcing as a service model is designed to help existing recruiting functions supercharge the top of their funnel. We use our extensive networks and proven search strategies to source highly qualified candidates that match the unique requirements of your open positions.
Our team of experts will identify, outreach, and engage potential candidates, and provide you with warm introductions to highly qualified candidates for your open position.
This service is perfect for companies that are hiring for the same skill set over and over again or simply require an extra set of hands to act as a force multiplier to your existing recruiting efforts.
Our RPO service is designed to provide end-to-end recruiting solutions for businesses. We work with our partners to understand their unique hiring challenges and develop a solution that can then manage the entire recruiting process from start to finish.

We handle everything from job postings, sourcing, screening, and interviewing to hiring, onboarding, and even ongoing support. We provide businesses with a dedicated team of recruiting experts who will ensure that they find the right talent for their growing organization.

This service is perfect for businesses that need a comprehensive and effective recruiting solution, fast.
No matter what your recruiting needs are we have a service that can help.
Contact us today to learn more about how we can help your business hire the best talent, fast!